International Graduation Reception
About the International Graduation Reception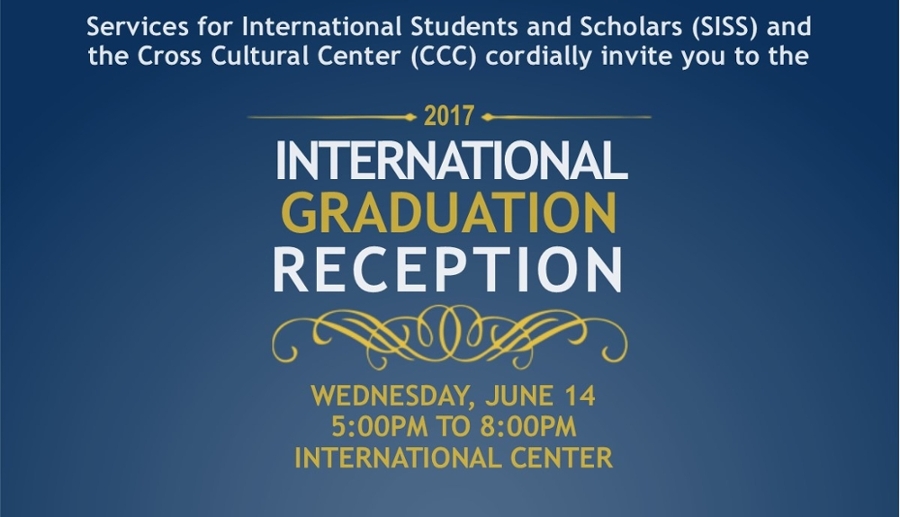 International Graduation Reception is a celebratory event to acknowledge the accomplishments of UC Davis international students and of the faculty and staff that support them in achieving their goals. This event will take place in the evening on Wednesday, June 14
th
from 5:00pm to 8:00pm in the International Center.
The reception will include refreshments, an awards ceremony and a program of entertainment reflecting the diverse cultural backgrounds of UC Davis international students. UC Davis international students with their family and friends and UC Davis faculty and staff are invited to attend.
We encourage students to dress in their traditional cultural attire as a way to showcase the vast diversity of students from around the world that come to study at the UC Davis campus. We look forward to seeing you, your friends, and family there!
RSVP Required. Limited seating available.
Graduating Students: Register by June 4 to receive a certificate.
Celebrating the Class of 2017:
Wednesday June 14th
5:00 - 8:00pm
International Center
AWARD NOMINATIONS
The University of California Davis enrolls over 3,000 international students each year. These students represent approximately 100 countries and come to pursue degrees in a variety of disciplines. The University of California Davis is rated as one of the top ten best public universities by US News and World Report.
During this reception in honor of our graduating International students, we would like to recognize a few of these outstanding international students.
Moira Delgado Campus Involvement Award
Outstanding Leadership Award
Staff & Faculty Community Building Award
Please nominate a friend or self nominate for one or more of the following awards.  Award recipients will be formally recognized at the International Graduation Reception.
Applications are open: Nominate a graduating student!
Nomination Deadline: Wednesday, May 24th, 2017.

Undergraduate and Graduate Student Awards
Moira Delgado Campus Involvement Award: In honor of the great strides Moira Delgado made for ensuring campus involvement for international students and scholars, this award has been created to recognize a graduating student who has taken initiative to create an environment or implement programs that bridge cultural gaps or connect international students with domestic students. This student displays kindness, compassion, and determination in their efforts to promote a culturally competent campus. You can read more about Moira Delgado and the award on the nomination form.
Nomination Link: https://goo.gl/forms/iaTHzExt93GCzj5n1
Outstanding Leadership Award: The Outstanding Leadership Award is given to one graduating UC Davis undergraduate student and one graduating UC Davis graduate student who have shown extraordinary dedication, involvement, and motivation as a leader on campus for the international student community. This includes contributions to UC Davis clubs, organizations, and the international student community for the 2016-2017 year. Please remember to be specific when describing the qualities that make the nominee especially admirable as a leader.
Nomination Link:
https://goo.gl/forms/YQTTfyiFgYhBi1kK2
Staff & Faculty Awards
Community Building Award: At the 2017 International Graduation Reception, one faculty and one staff member will be recognized for their outstanding contributions to the UC Davis international community. This individual continuously demonstrates respect and understanding for international cultures in their everyday work. Furthermore, this individual has gone above and beyond to provide support to international students or scholars on campus by creating an environment for cultural integration. SISS and the CCC are seeking nominations from international students for one faculty or one staff member for this award. If you know of a faculty and/or staff member who deserves this recognition, please complete one nomination form for each nominee.
Nomination Link: https://goo.gl/forms/nxHkw3OiOL9tuSzD3