Inviting Scholars Using the J-1 Visa
This SISS multimedia course (PDF download) is intended for staff who work in academic departments or research units that hire international faculty and researchers. It is inteded for staff who were unable to attend the SDPS course, or who need a refresher course.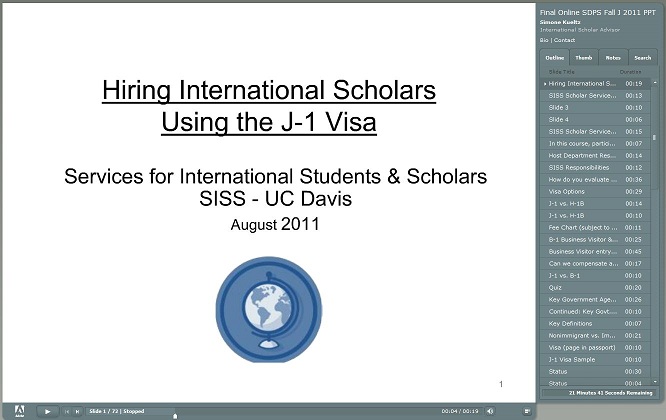 You will need Adobe Reader 9 to view this narrated slideshow. Please contact your IT department if you are having trouble viewing it.
This course covers U.S. immigration regulations and campus policy that govern hiring non-U.S. citizens using the J-1 visa, and how departments can work with Services for International Students and Scholars (SISS) to facilitate international hires. Topics covered include determining the right visa and extending a person's J-1 status, and how to help international faculty/researchers in this complex process.

By the end of the course, participants will:
Know when a J-1 visa sponsorship is appropriate for nonimmigrant employees, and the general requirement of the J-1 visa
Understand the process necessary to work with SISS to apply for an initial J-1 visa
Understand the process necessary to work with SISS to apply for an extension of the J-1 stats
The comparative benefits of the J-1 visa
The most important restrictions and limitations of the J-1 visa
Special issues related to employment and travel