Overview
Optional Practical Training (OPT) gives an F-1 student the opportunity to apply what they have learned in a degree program through off-campus employment after completion of all degree requirements. 
Employment approval takes at least 90 days, so careful planning is required.
Helpful Acronyms and Terms
Optional Practical Training —  OPT
U.S. Customs and Immigration Service — USCIS
Employment Authorization Document — EAD Card
Student and Exchange Visitor Program — SEVP
Grace Period — the 60 days following the last day of the quarter you complete the requirements for your degree OR the 60 days following your authorized OPT period
Eligibility 
Must have completed at least one academic year with the same SEVIS number (found at the top left side of page 1 of the I-20).
Must apply prior to the end of the 60 day grace period following the quarter/term in which all requirements for graduation are met.

Graduate students have the option to apply before the thesis/dissertation is filed provided all coursework required for graduation is complete.  In this case, all degree requirements must be complete prior to the end of the OPT period.  Meet with an SISS advisor to discuss your situation if you would like to file earlier.

Must have been authorized for fewer than 365 days of full-time CPT during the degree program. Part-time CPT does not affect OPT eligibility.
Must have a recommendation for OPT on page 2 of your I-20 from your International Student Advisor at SISS to successfully apply. The recommendation is only good for 30 days.
Cannot work or volunteer while waiting for USCIS to process the application. This means if you did not submit a timely application to begin working the day after the quarter ends, you will have a gap in your employment eligibility.  You may not continue working on campus if there is a gap.  See an SISS advisor if you have any questions about your work eligibility to avoid working illegally.
SISS advisors are available to answer questions during this process after confirmed workshop attendance during drop-in or by making an appointment.  
---
1. Submit a request to SISS using the iGlobal portal
2. Mail the following materials to USCIS
Make sure to assemble in the following order as required by the instructions (failure to do so may result in rejection or denial):
Check or money order payable to U.S. Department of Homeland Security. Check the current 

filing fee

 before submitting.
Optional (highly recommended): 

Form G-1145

  to 

receive an e-mail and/or a text message that your application has been accepted and the receipt number you will use to track your case.

Letter declaring that any field left blank in the I-765 means it does not apply.
Original 

I-765

 application form

The physical signature MUST fit inside the box and be signed with black ink. Electronic signatures are not acceptable
Any previous CPT or OPT must be documented in part 6 (see the workshop PPT for recommended method)
Any previous SEVIS numbers must be documented in part 6 (see the workshop PPT for recommended method)

Form I-94, Arrival-Departure Record
A copy of your last EAD (front and back) if you have been issued an EAD card by USCIS in the past
Photocopy of passport biographical information, showing passport expiration date
Photocopy of the new I-20 with the OPT recommendation (all pages)
2 photos (taken within the past 30 days, white background, 2" x 2"– see Photo guidelines 

Print lightly in pencil or felt pen on back of photos full name, A-Number (if any from previous EAD), and date of birth

Mail documents to USCIS Phoenix Lockbox (if you do not have a CA address on your I-765, contact SISS to check which lockbox you should use).

FedEx, UPS, DHL, etc. (overnight / courier deliveries)
USCIS
Attn: AOS
1820 E. Skyharbor Circle S
Suite 100
Phoenix, AZ 85034
---
Employment must be directly related to the student's program of study at the appropriate degree level.

Employment cannot start until the EAD card is received AND it is within the authorized dates shown on the EAD card.
Employment can be paid or unpaid.
Employment can be from multiple employers and include:

Payment by short-term employers
Work for hire (i.e. contract work)
Self-employed business owner
Employment through an agency

The student is responsible for keeping records of all employment including documentation of hours worked and how the employment is directly related to the program of study.

Keep record of the position title, duration of employment, supervisor's information and a description of the job.
If it's not clear from the job description how your job is related to your field of study, obtain an official letter from your employer with an explanation of how your degree is related to the work performed.
If employment is unpaid, keep a log of hours worked and have your supervisor sign it periodically

90 days of unemployment eligibility

Students on OPT are allowed a total of 90 cumulative days of unemployment during their OPT authorization.  This 90 days starts on the first day of the authorized employment.
Update your employer information through the iGlobal portal to avoid being erroneously viewed as unemployed.
Consider tracking your unemployment days using the unemployment calculator.
Students who are being paid for work in the United States will need to apply for a Social Security Number and plan to file taxes.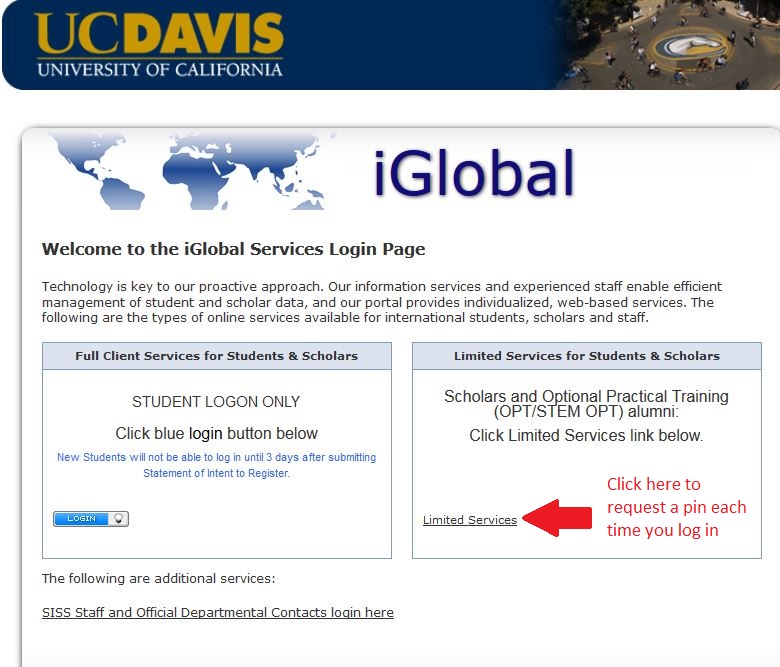 ---
How to report:
Report using iGlobal within 5 days of a change 
Login under Limited Services using your student ID, Date of Birth and a temporary PIN number that you can have emailed to yourself. 
Upload your Employment Authorization Document (EAD card) the first time you report.
What to report:
Any changes to your
Legal name
Residential or mailing address
Email address (permanent, non-UCD)
Employer name and address
Employment status

loss of employment
start & end dates of employment

How employment is directly related to your major field of study
Departure from the U.S. (permanent leave)
Change of Status (such as H-1B approval, etc.)
---
What is the SEVIS OPT Portal?
SEVIS has created a means by which international students may choose to report a limited amount of information directly to SEVIS. However, SISS REQUIRES that all UC Davis international student on approved OPT or STEM OPT continue to use iGlobal
Why did I get an email from SEVP?
All students on Active OPT or STEM OPT will be contacted directly by SEVP starting March 23, 2018 from do-not-reply.sevp@ice.dhs.gov
I have applied for OPT but have not gotten an email. When will I get it?
Once your OPT has been approved, you should receive an email.
Do I have to report employment through the SEVP Portal?
No. In fact, SISS requires that you continue to use iGlobal to report all OPT and STEM OPT related changes and updates just as you were doing before. If you wish to set up an account, use it to view your information only and realize that at this time, SISS is not supporting the OPT Portal, so we will not be able to reset your password or unlock your account.
I submitted my OPT reporting through iGlobal and received an approval notification from my SISS advisor that it was processed. When I view the information in the Portal, it is not updated. Why? 
SISS does not currently support use of the Portal. Once your SISS International Student Advisor has processed your information it will be updated in SEVIS.
Do I need a new I-20 each time I update my OPT or STEM OPT?
It is not a regulatory requirement to receive an updated paper copy of your I-20 after each update. You are welcome to request an I-20 through iGlobal for your records or if you need it for another reason (travel for example). You will be responsible for shipping fees or to arrange for someone to pick it up for you.
I did not get an email from SEVP because I've changed my email address. Can you help me?
No. SISS is not supporting the SEVIS OPT Portal and will not be able to assist you in getting SEVIS Portal access.
I set up my account for view only purposes, but I got locked out and need a password reset. Can you help?
No. SISS is not supporting the SEVIS OPT Portal and will not be able to assist you with a password reset.
My friend at another university uses the Portal. Why isn't SISS supporting the Portal?
The Portal is new and no one can be certain that it will function as intended. There are risks of students updating information in the Portal that may be overwritten by information that is currently in iGlobal through a batch process. Students may enter information incorrectly and there is no one at SEVIS who will monitor this, so students risk becoming out of compliance. Since it is SISS policy for an advisor to review each iGlobal OPT report submission, we can ensure that your information is accurate, up-to-date, not overwritten, and that you are maintaining compliance. 
Can I travel while on OPT?
Please refer to our travel webpage for detailed information about traveling while on OPT.
Am I still eligible for health insurance?
Students who have completed their academic program are no longer eligible for USHIP or GSHIP – University Health Insurance, learn more about your options.
Can I extend my OPT?

Effective May 10, 2016, a student with a degree in a STEM (science, technology, engineering, mathematics) field can apply for a 24-month extension of their 12 month OPT, for a maximum of 36 months. In order to qualify, a student must meet all of the following requirements.  Students can learn more about the STEM extension. 

I'm planning on transferring to another school, what do I need to do?

If you plan on transferring to another school, you will need to contact your International Student Advisor to coordinate the release of your SEVIS record. You may request to also have your SEVIS record released while you are on OPT or during your 60-day grace period. Once the SEVIS record is released, you cannot continue working on OPT.

Do I need a Social Security Number?

Students who are being paid for work in the United States will need to apply for a Social Security Number and plan to file taxes.

I'm planning to apply for a change of status to another immigration status, is there something I should do?

Notify SISS if you apply for a change of status to another immigration status. When your application is approved, provide SISS an electronic copy of your I-797 approval notice, I-94 record, or green card.

What happens to my OPT if I do not meet all my requirements for graduation?

Undergraduate and non-thesis graduate students who have already applied for OPT and who do not meet all requirements for graduation during their expected final quarter are required to finish all requirements during the next available quarter or summer session.  If the application has not been submitted (mailed), OPT can be cancelled, the I-20 extended and OPT re-recommended at a later date. If the authorized employment period begins before all requirements are met, students may not work more than 20 hours/week until they have finished their requirements. Students are subject to the same employment regulations as if they had finished as originally expected and may accrue unemployment days. Students in this situation need to make an appointment with their SISS International Student Advisor.

Graduate students in thesis/dissertation programs must finish all coursework, but are not limited to 20 hours while finishing their thesis/dissertation.  All requirements for graduation must be met prior to the end of the authorized employment period.

If I am currently on OPT with pending or approved H-1B petitions, am I eligible for extension?

Students currently on OPT with pending or approved H-1B petitions (regardless of degree), are eligible for an automatic extension of status and employment authorization if the following conditions are met:

1) The student is a beneficiary of an H-1B petition filed before the end of the student's lawful F-1 status;

2) The H-1B petition requests a change of status with an effective date of October 1 of the following fiscal year;

3) The student has maintained status; and

4) The H-1B is not rejected, denied or revoked.

If USCIS approves the H-1B petition, the student is granted an extension that allows them to stay in the U.S. until the requested start date on the H-1B petition takes effect. If OPT is extended due to cap gap, the 90-day limitation of unemployment continues to apply.

1) Students cannot travel and re-enter the U.S. during this automatic extension period. Traveling while an H-1B petition is pending may impact your application and be considered an abandonment of the H-1B petition. Applicants should discuss all travel plans & timing with attorney and employer that filed H-1B petition.

2) In case of an H-1B withdrawal or denial, OPT authorization ends 10 days after the date of the withdrawal or denial. Student's grace period ends 60 days after the date of the withdrawal or denial.

Important note: Students should consult the employer who filed their H-1B for further information about whether they are eligible for the automatic extension of their stay and employment. Information about Extension of Post Completion OPT and F-1 Status for Eligible Students under the H-1B Cap-Gap Regulations is available through USCIS

*Students can request a Cap-Gap I-20 with evidence of an H-1B petition selected for processing by USCIS through iGlobal (log on through Limited Services).
---
| | | |
| --- | --- | --- |
|   | OPT for Undergraduate F-1 Students | OPT for Graduate F-1 Students |
| Date: | Time and Location: | Time and Location: |
| Friday, October 5 | 1:15pm - 2:45pm Int. Center 3119 | 10:00am - 11:30am Int. Center 3119 |
| Friday, November 9 | 10:00am - 11:30am Int. Center 3119 | 2:30pm - 4:00 Int. Center 3119 |
| Friday, December 7 | 1:15pm - 2:45pm Int. Center 3119 | 10:00am - 11:30am Int. Center 3119 |
Location: All workshops will take place at the UC Davis International Center. See above for room numbers.
---
Tags