Overview
International scholars may come to UC Davis on a variety of work statuses that are not sponsored through SISS, including these three categories:
1. Employment Authorization Document (EAD)
Non-immigrants can gain employment authorization through a variety of circumstances, including:
F-1 international students who have graduated from any school and have gained "OPT" (optional practical training)
the J-2 spouses of J-1 research scholars or students
spouses of L-1 visa holders (L-2 status) or E-3 visa holders (E-3 dependents)
any person who has applied for permanent residence in the U.S. and is pending permanent resident status. 
All of these people could have an EAD, as well as a few other categories of visa holders.

2. J-1 Academic Training (AT)
Any J-1 student in an academic program can apply for academic training in their field of study, based on a job offer from a U.S. employer.  Post-completion academic training for non-degree, bachelor's and master's students may be valid for the length of study or 18 months – whichever is shorter.  J-1 students who receive a PhD may request up to 36 months of academic training for the purpose of postdoctoral research.  The university that sponsored the J-1 status must approve the J-1 academic training.  To confirm that AT has been authorized for UC Davis, the employer must see a valid DS-2019 with academic training listed for UC Davis in the middle of the document.  The authorized employment dates are also listed in the middle of the document.  A sample is below: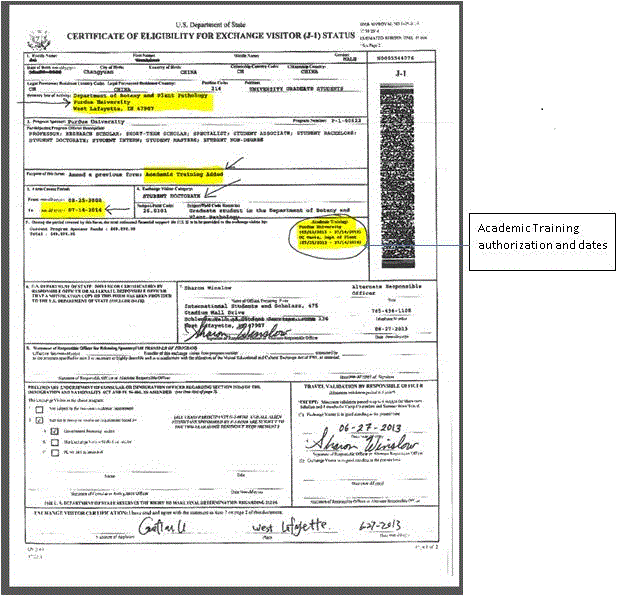 3. Curricular Practical Training (CPT)
F-1 students who are currently enrolled in a degree program at any university can request Curricular Practical Training (CPT) after being in F-1 status for at least 9 months.  CPT can be used if the curricular training is an integral part of the degree program.  In general, CPT is only approved for part-time employment, although there are some exceptions.  The purpose of CPT is to gain knowledge and experience in the field of study, usually for credits toward a degree.  Employment is authorized on page 3 of an F-1 I-20 document and lists the specific employer and employment dates.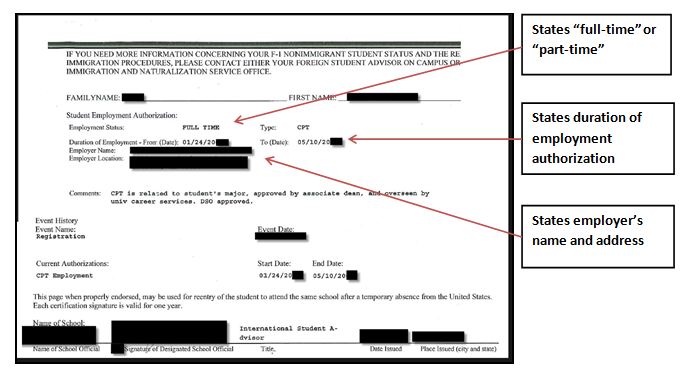 Questions or Comments?
As always, please feel free to contact SISS with any questions regarding immigration status and legal work authorization. If there are questions about entering information in the payroll system, please contact payroll.
Tags