SISS offers in-person and virtual Zoom advising by appointment only. We do not offer drop-in advising. Learn more about contacting SISS.
Find your advisor to schedule an advising appointment 
Overview 
Services for International Students and Scholars (SISS) serves approximately 8,000 UC Davis international students from all over the world.  One of the most important roles for SISS is to assist international students in obtaining and maintaining the appropriate legal status and employment authorization.  SISS also provides students an orientation to the University system, the campus, and to the community. If you are thinking of applying to UC Davis, there are a full range of degree programs for both graduate and undergraduate students. Please see the website for prospective international students.

Newly Admitted Students
Once you have been admitted, you will work with many departments on campus to meet all the requirements necessary to study here at UC Davis.  A few very important items are listed here to help get you started, but make sure to explore the entire Newly Admitted Student section to get all of the information you need as an international student for immigration purposes.

Current Students 
If you are a UC Davis student who is currently in F-1 or J-1 status with a SISS issued I-20 or DS-2019 form, you will want to make sure you understand how to maintain your "immigration fitness."  That means understanding the immigration and visa regulations that apply to international students.  

Student Employment 
Students who enter the U.S. in F-1 or J-1 status can access certain employment benefits and are approved for certain employment benefits as they become eligible.

Programs and Activities 
From International Cafes every quarter to Global Ambassador led holiday celebrations, there are ongoing opportunities to get involved and meet international and domestic students and scholars. SISS offers events, programs, and opportunities for international students, scholars, and families at UC Davis to explore the campus and the local community. 

Fees and Tuition 
Entering and continuing undergraduate international students must pay an additional administrative fee. This fee helps support a variety of services provided to our international students, including student visa assistance, international student advising, programs to help integrate international students into academic life at UC Davis, and funding to comply with federally mandated regulations.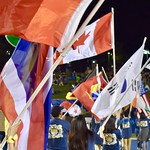 Finding Your Global Community
Whether you are a continuing or incoming international student, a current scholar or new to UC Davis, we are here to support you and help you find your Global Aggies community so you feel as at home as possible—even if from afar to start. Find programs, events, and resources.