Global Aggies: Extraordinary Abilities Lead to Permanent Residency for a World-Renowned Surgeon and Chief of Cardiothoracic Surgery at UC Davis Health
Bob Kiaii, chief of cardiothoracic surgery at UC Davis Health, is an international expert in robotic heart surgery who leads a surgical team that treats complex diseases of the chest using minimally invasive techniques. Born in Iran, Kiaii immigrated to Canada as a child with his family. His path in medicine eventually brought him to UC Davis Health, a relocation feat that was not without its challenges.
Many international scholars like Kiaii must obtain an H-1B Visa to join us at UC Davis. Kiaii needed to secure an O-1 Visa, which is granted to individuals with extraordinary abilities or achievements who have reached the top of their fields. The Scholar Advising Team in Services for International Students and Scholars (SISS) helped him on the journey to secure his O-1 Visa. Thanks to his international acclaim as a sought-after heart surgeon, Kiaii was also granted permanent residency in the United States based on his "Extraordinary Ability."
"During the visa petitioning process, [my SISS scholar advisor] made sure we covered every aspect of my application. By providing all the requirements I needed, I was able to gain permanent residency and continue with this position, and I am very thankful for it," Kiaii said. "Having help from individuals like my advisor, having their support, enabled my application to be as strong as possible."
O-1 Visas can be difficult to secure, but there were aspects of Kiaii's visa application that made him stand out. Among his noted achievements, he performed North America's first combined coronary bypass surgery and angioplasty as well as the world's first robotic-assisted surgeries for aortic valve bypass.
A Family History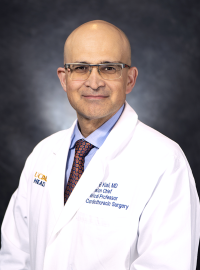 Kiaii's desire to help patients with heart problems began when heart surgery was still a very high-risk procedure, and long before he ever opened a medical textbook.
"When I was in high school, back in 1983, my father was afflicted with heart disease and needed to have heart bypass surgery," Kiaii said. "The surgeon spoke with my mother and me about the high-risk nature of the operation. Because my father was completely incapacitated, I read about the procedure and became interested in heart surgery; my father and I are very close and I was very concerned and scared of the procedure he needed."
Ultimately, the operation was successful, and provided Kiaii with the pathway to one day "be lucky enough to do the same thing for another family."
International Pioneer
After Kiaii obtained his certification in heart surgery, he got a sub-specialization in less invasive surgical practices by working with pioneers in the field at a renowned heart center in Germany. This training allowed him to acquire the knowledge and skills he brought back to Canada to improve the outcomes of heart operations.
He now heads UC Davis Health's adult heart surgery program, which was recently designated a Cardiac Surgical Robotics Program training center for the American Association for Thoracic Surgery Foundation, the first such center in California and just the sixth in the U.S.
Kiaii also recently concluded his term as president of the International Society for Minimally Invasive Cardiothoracic Surgery While his top priority during this time was to provide better medical care for people worldwide, Kiaii says that running a society with 1,000 members also proved to be an important challenge during the pandemic.
Sharing Across Borders
Looking back on his international work experience and research commitments, Kiaii hopes to see better modalities for individuals to freely exchange ideas and information to advance global health going forward.
"When something new is becoming available worldwide, it would be great if it could be shared with individuals more fluidly, more efficiently, so that they can utilize it in their own specialties, no matter where they are located around the world," Kiaii said.
To help bolster this model of sharing new techniques and technologies, Kiaii routinely allows colleagues to visit his operating room so he can walk them through the technical aspects of the procedures in real time.
"This enables individuals to learn and grow their medical skills, which I consider a form of peer-to-peer training," he says. "I think this type of information-sharing can help bring about the changes we'd like to see in health care globally. Having come from another country, I'm extremely privileged to have been welcomed into an environment that actually promotes international expertise, particularly, and am incredibly grateful to Diana Farmer, chair of the UC Davis Department of Surgery, for her support on this. Helping universities rise to the next level and provide better care for patients with disorders is incredibly important. This should be the mission of most institutions so that everybody can benefit from it."
This part of a series featuring Global Aggies—members of the UC Davis community who are living the Global Affairs mission: to inspire global curiosity, understanding and engagement. Learn more about 
Global Aggies at UC Davis
. 
---
About Global Affairs at UC Davis
Global Affairs brings the world to UC Davis, welcoming more than 10,000 international students, scholars and leaders, and hosting programs that inspire global curiosity, understanding and engagement. Compelled by the valuable outcomes of thinking globally, we make transformative opportunities a reality by supporting the thousands of students and faculty learning and researching internationally—and by facilitating collaborations that tackle the world's most pressing challenges through more than 150 global partnerships.
Putting our vision of a UC Davis community that engages, thrives, and leads in this interconnected world into action, Global Affairs is in pursuit of an ambitious goal: Global Education for All.
Primary Category
Tags