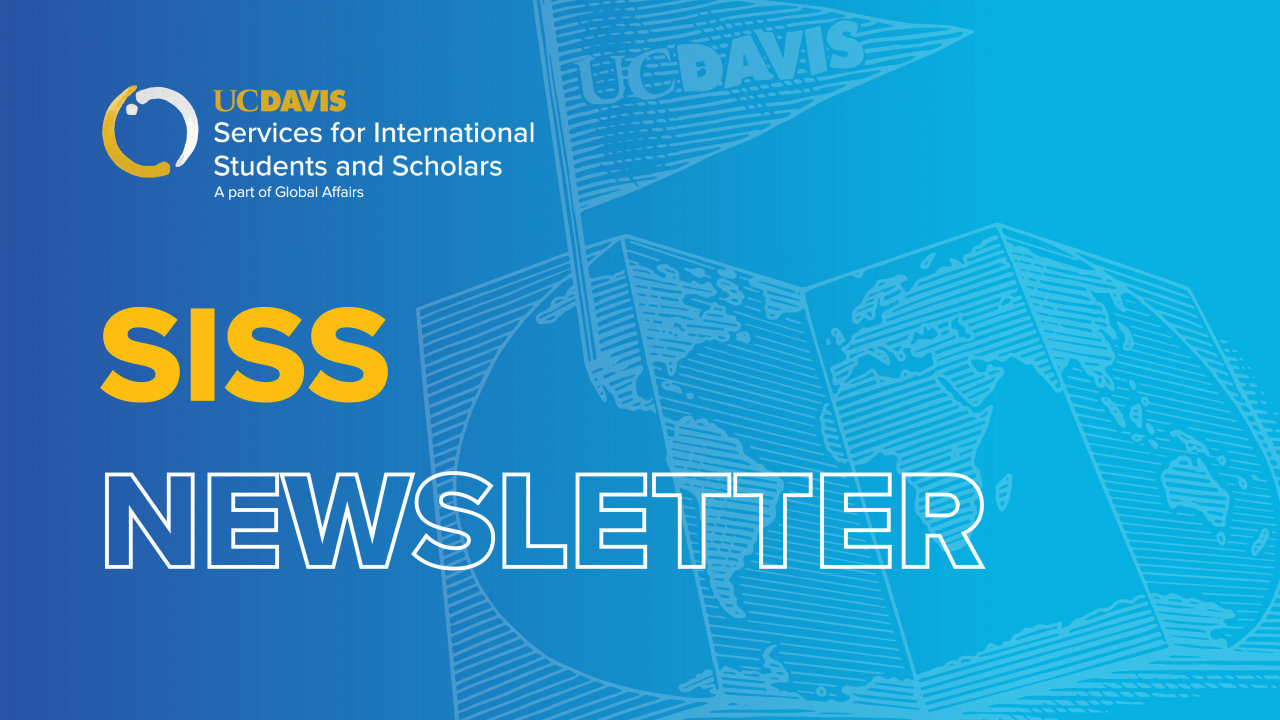 Information and Updates
Resources for Fall Planning
It was recently announced that UC Davis plans for a full return to activities in fall 2021. International students and scholars may have questions as they make plans for the fall. While we recognize that the environment continues to evolve, Services for International Students and Scholars (SISS) within Global Affairs continues to actively pursue answers and explanations. Visit our website to read some of the most frequently asked questions from international students, scholars, and their families, with answers we hope help as you plan.
Learn more about fall 2021 planning
Submit Your Fall Plan Now
If you haven't done so yet, please submit your Summer or Fall Term Plan in iGlobal immediately. If you have questions about your term plan or other visa issues, please contact your SISS Advisor.
Student Visa Updates
If you do not already have a visa, please be aware of recent updates in the visa process. On April 26, 2021, the U.S. State Department announced a National Interest Exception for students from certain countries. This emergency measure grants travel into the United States.
Read more about the National Interest Exception 
Students from India qualify for the National Interest Exception as well. Read more.
If you do not qualify for the National Interest Exception, keep checking visa appointment wait times for consulates and embassies in your preferred city so you can request an appointment as soon as they are available.
University of California Proposes COVID-19 Vaccine Requirement
The University of California proposed a COVID-19 vaccine requirement for all students once the U.S. Food and Drug Administration has approved the vaccine. This policy is currently under review but is proposed to begin as early as fall 2021.
SISS Reviewing New OPT Application Process
On April 12, 2021, United States Citizenship and Immigration Services (USCIS) announced that requests for Optional Practical Training (OPT) and the STEM OPT Extension could be applied for via the I-765 online through the USCIS website. SISS is reviewing this process and will provide guidance in the near future.
For now, SISS advises that you apply for OPT and the STEM OPT Extension using the processes outlined on our website and in iGlobal. 
Protect Yourself From Scams
The U.S. Internal Revenue Service (IRS) is warning about a new scam that targets educational institutions and students.
Read the warning about this scam
Remember to stay alert and protect yourself from scams: 
COVID-19 and Campus Updates for International Students and Scholars
Please continue to connect with campus resources to stay informed about how COVID-19 is impacting operations, and for new information as it becomes available.
As always, advisors within Services for International Students and Scholars (SISS) are available as resources if you have questions related to visa and immigration status. Find your SISS Advisor and schedule an appointment.
For more information about COVID-19, please visit Center for Disease Control.
---
Programs and Events
Traveling Through Zoom
Are you interested in "traveling to" the Middle East and North Africa, learning more about some of its cultures, and making more connections? Come to this informal Zoom social event, hosted by Global Education for All Fellows, to meet peers from this region who can share an insider's perspective!
Date and time: May 4, 2021, 7-8 p.m. (PDT)
Graduate Studies Anti-Racism Symposium
Graduate Studies will host the inaugural Graduate Studies Anti-Racism Symposium at UC Davis, co-sponsored by the Office of Diversity, Equity and Inclusion. The symposium seeks to highlight best practices in anti-racist approaches to graduate education.
Date and time: May 6, 2021, 9 a.m.-12 p.m. (PDT)
Osaka University Joins UC Davis for Discussion on Sustainability
Join students and faculty from UC Davis and Osaka University for a cross-institution discussion on their perspectives on sustainability and the UN Sustainable Development Goals. Students will discuss sustainability practices on their campuses and in their communities in a dynamic cross-cultural dialogue.
Date and time: May 7, 2021, 4-5 p.m. (PDT)
Life After UC Davis: Immigration Options for Students and Postdocs
SISS invites undergraduate students, graduate/professional students, and postdocs who plan to stay in the United States to work after leaving UC Davis to attend a webinar to learn about visa options.
Date and time: May 11, 2021, 9-10:30 a.m. (PDT)
Shine While You Dine
Students can learn the most common principles of effective networking and dining etiquette. Sponsored by Chevron and the Internship and Career Center, this interactive workshop is designed to increase your networking skills and give you valuable tips on navigating interactions over meals and in social settings. Registration is first-come, first-served, and open to only 200 participants.
Date and time: May 11, 2021, 6:30-8:30 p.m. (PDT)
Scholar Coffee Break
We invite international scholars to connect with each other at the monthly SISS Scholar Coffee Break. Whether you are new to campus or have been here for several months, international scholars are invited to join SISS in this welcoming and virtual space. 
Date and time: May 13, 2021, 9-10 a.m. (PDT)
---
Opportunities and Announcements
Contribute Your Story to the UC Davis Voluntary University Review
UC Davis is pursuing a Voluntary University Review to support our university's role as a public land-grant institution in advancing the 2030 Agenda for Sustainable Development. This is a joint effort between Global Affairs, Sustainability, and the Office of Diversity, Equity and Inclusion. We invite all students, scholars, staff, researchers, and faculty to share details about their Sustainable Development Goal efforts to contribute to this review and inspire others.
Learn more and take the survey
Free Tool for Reducing Stress and Supporting Mental Wellness
Free for all students and staff, UC Davis offers TAO Connect (Therapy Assistance Online), a tool for skill development in the areas of well-being and behavioral health. TAO Connect can also encourage and support mindfulness, reduce stress, and other practices for wellness. Sign up with your UC Davis email address.
Summer Research Fellowship Open to Graduate Students
The Hemispheric Institute on the Americas offers fellowships for alternative research plans that include a Latin American or hemispheric component to help graduate students make progress toward their dissertations. Fellowships range from $500 to $1,500 and must be used in Summer 2021.
Employment Workshops Now Available On-Demand Online
Interested in OPT or CPT? We have made F-1 Employment Workshops available online. Select your workshop to get started.
Chinese Students Invited to Share their Experiences
A doctoral candidate in the Graduate School of Education at UC Berkeley invites undergraduate Chinese international students to share their experience learning and living in the U.S. Those who take the 25-minute survey can be entered into a prize drawing for Amazon gift cards.
---
Student and Scholar Spotlight
Student-Led Projects Advancing Global Education for All
The 2020-21 UC Davis Global Education for All Fellows are working together and with others across and beyond UC Davis to advance Global Education for All, a campus goal aiming to provide 100% of undergraduate, graduate, and professional students with global learning opportunities that change their lives and our world. 
Category
Tags