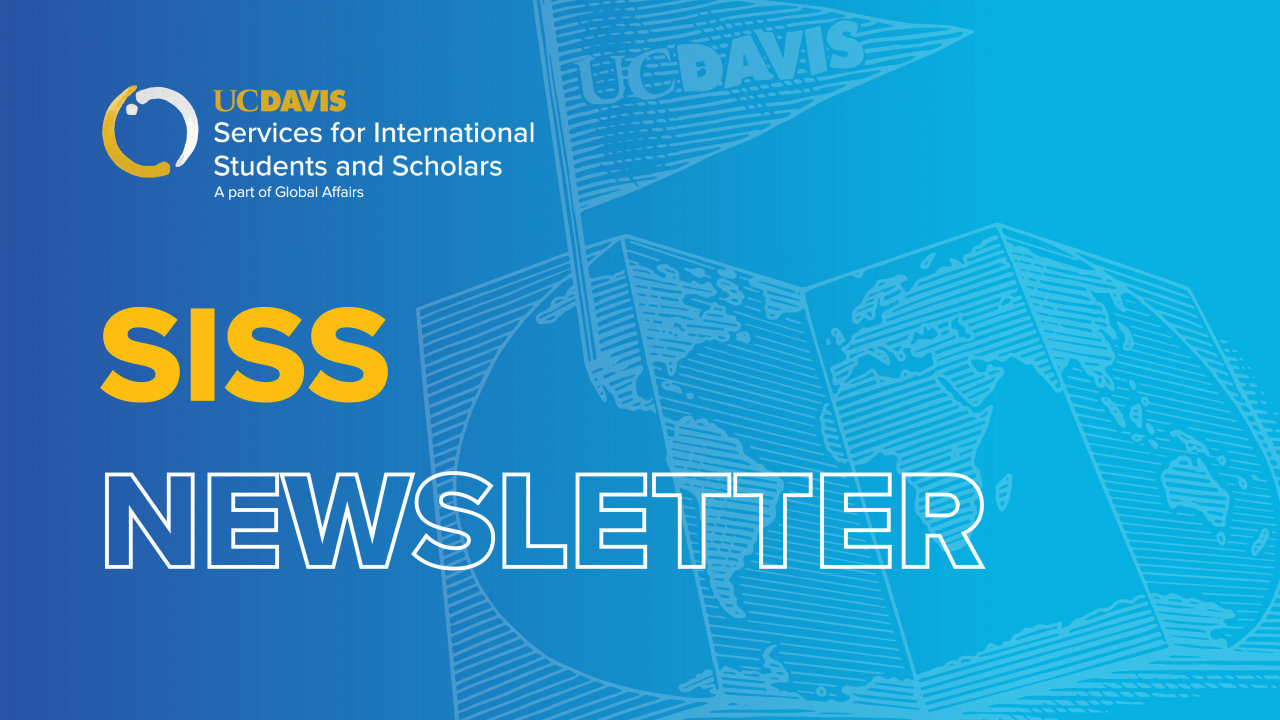 Information and Updates
Planning for Spring Quarter
Chancellor Gary S. May recently updated the UC Davis community with information about planning for spring quarter. In his update, he explained that although spring will be similar to winter quarter, more in-person courses will be made available, with some designed for graduating seniors.
As spring approaches, F-1 students may have questions about remote and in-person courses next quarter. Please read the update from International Students & Scholars (SISS) to ensure you remain in compliance. If you have additional questions about your visa status or similar issues, please contact your SISS Advisor.
Know Your SISS Student Advisor
SISS Student Advisors are assigned based on the first letter of the student's last name. Advisor assignments can change throughout the year. Make sure you stay up to date and know who your SISS Student Advisor is. Visit our staff directory to find your advisor.
Change of Address for OPT Applications
If you have recently submitted or will soon submit an OPT/STEM OPT application, please note the updated mailing address. Students must now mail documents to USCIS Chicago Lockbox via an express mail courier (Federal Express, UPS, DHL, etc.) to:  
USCIS
Attn: I-765 C03
131 South Dearborn - 3rd Floor
Chicago, IL 60603-5517
Learn more about student employment
Planning Upcoming Travel
Many of you have questions about traveling. Based on the warnings from the U.S. State Department and Centers for Disease Control (CDC), University of California advises travelers to avoid all nonessential international and domestic travel, which includes a return home or vacation.
Please read the Travel Advisory from Global Affairs for updated information about the current travel climate.
Protect Yourself From Scams
Shortly before winter break, a new scam was reported that offers to reserve COVID-19 vaccines. Please be aware of this and other various scam and fraud attempts that are out there at this time, including spoofed calls appearing to come from government agencies. 
Campus Ready Survey and Dashboard
Visit the Campus Ready website for the latest information about accessing campus, testing, and the daily COVID-19 symptom survey. UC Davis also reports weekly COVID-19 information for campus on the COVID-19 Dashboard.
COVID-19 and Campus Updates for International Students and Scholars
We encourage our international students and scholars to seek out campus resources to stay informed of campus operations and new information as it becomes available.
As always, advisors within Services for International Students and Scholars (SISS) are available as resources if you have questions related to visa and immigration status. Find your SISS Advisor and schedule an appointment.
For more information about COVID, please visit Center for Disease Control.
---
Programs and Events
Language Tour with Global Ambassador Mentorship Program
Undergraduate students are invited to learn brief histories and fun facts about Arabic, French, Cantonese, Japanese, and Mandarin while they connect with other undergraduate students. 
Date and time: Feb. 5, 2021, 8–9 p.m. (PST)
Scholar Coffee Break
We invite international scholars to connect with peers during the monthly SISS Scholar Coffee Break. 
Date and time: Feb. 11, 2021, 9–10 a.m. (PST)
Winter 2021 UC Davis Forum on the UN SDGs
The Winter 2021 Forum will focus on the connections between addressing global challenges and Diversity, Equity and Inclusion efforts, and will highlight ways that UC Davis the campus is contributing to specific efforts, including Zero Hunger, Climate Action, and more. 
Date and time: Feb. 11, 2021, 9–10 a.m. (PST)
32nd Annual Undergraduate Research, Scholarship & Creative Activities Conference
Priority abstract deadline: Feb. 9, 2021, 11:59 p.m. (PST)

Final abstract deadline: Feb. 16, 2021, 11:59 p.m. (PST)

Conference dates: April 28–May 1, 2021
Why Play Works: A Conversation with Jill Vialet
The quarterly Think. Do. Discover. Speaker Series brings innovative leaders from diverse fields to our (virtual) campus to inspire Aggies. This quarter's event features Jill Vialet, founder of the Museum of Children's Art in Oakland and Playworks.
Date and time: Feb. 9, 2021, 5:30–7 p.m. (PST)
Aggies Leading the Way! Undergraduate Leadership Conference
Join for a series of engaging speakers and interactive sessions that will explore topics and strategies related to personal wellness, strengthening relationships, and discovering your place in creating change. 
Conversations with Latin American Authors
UC Davis Global Affairs, the UC Davis Hemispheric Institute on the Americas, and Stanford's Center for Latin American Studies present The Art of Memory: An Ethnographer's Journey, as part of the series "Conversations with Latin American Authors". Author Stefano Varese, Professor Emeritus at UC Davis, will discuss his new book The Art of Memory: An Ethnographer's Journey with comments by Charles R. Hale, Dean of Social Sciences at UC Santa Barbara.
Date and time: Feb. 24, 2021, 12–1 p.m. (PST)
Graduate and Postdoc Certificate Seminar Series
This series encourages graduate students and postdocs to consider how their research and career aspirations position them to respond to global challenges. Participants will be provided insights from mid- and late-career professionals on how to improve networking and leadership skills for success in intercultural work environments, whether in the public, private, or academic sectors. 
UC Berkeley Center for Chinese Studies Presents Colloquium: Other Racisms
The UC Berkeley Center for Chinese Studies presents Colloquium: Other Racisms with artist and curator Christopher K. Ho 
Date and time: April 2, 2021, 5–6:30 p.m. (PDT)
---
Opportunities and Announcements
Online Counseling Services Available to Students in the U.S.
Student Health and Counseling Services (SHCS) offers expanded appointment services with the addition of online video and telephone consultations. Students inside the U.S. can schedule an appointment with an SHCS medical or mental health provider, by logging in to Health-e-Messaging, selecting "Schedule or Cancel an Appointment" and following the prompts.
Grad Slam Returns
Grad Slam is the annual event for master's and doctoral students to share their research story concisely and compellingly, in three minutes or less! Not only will you refine your research communication skills, but the winners will also take home prizes ranging from $500 to $2,500. 
International Student Leadership Award Entries Open
The Student Advisors to the Chancellor present the International Student Leadership Award, recognizing and rewarding UC Davis international students who have played meaningful leadership roles in their community. Awards are a one-time award of up to $1,000 given to qualifying recipients.
Opportunity to Participate in Dissertation Research Study and Raffle
A doctoral candidate at St. Mary's College of California at the Kalmanovitz School of Education is conducting a study on higher education experiences and careers. This research project involves one online survey, which will take approximately 25-minutes to complete. As an expression of gratitude for your time, after completing the survey, by March 15, you will have the option to enter a raffle to receive a $50 gift e-card. 
Deadline: March 15, 2021

Questions? Email

Denishia L. Clark

, MPH, Doctoral Candidate, or

S. Marshall Perry

, Ph.D., Dissertation Chair, Doctorate in Educational Leadership, Associate Professor
Review criteria terms and take the survey
Join Our Facebook Group
International students and scholars are invited to join the SISS Facebook Group for updates and to connect with peers. To request membership, follow the link below and answer the three membership questions. 
Finding Your Global Community
Find your global community at UC Davis no matter where you are this winter.
Employment Workshops Now Available On-Demand Online
Interested in OPT or CPT? We have made F-1 Employment Workshops available online. Select your workshop to get started.
GoinGlobal Career Support Portal Now Live

 
GoinGlobal provides career and employment resources for more than 120 worldwide locations. 
Slack Channel for International Scholars
International scholars can join a special channel on Slack to exchange information about international academia in the U.S., share helpful links, provide moral support to the community, and discuss issues and advocacy. All are welcome.
---
Student and Scholar Spotlight
International Student Jennifer Li featured in The Aggie
Recently, Jennifer Li described her experience as a first-year UC Davis student studying from Singapore as she adjusted to student life, juggled early morning classes, and discovered ways to virtually engage with campus.
---
About Services for International Students and Scholars
Services for International Students and Scholars (SISS), within Global Affairs, is helping to build a campus community that includes students and scholars from over 140 countries and six continents. SISS serves more than 10,000 international students, faculty, and researchers and their accompanying family members who come to UC Davis each year.  We welcome the world to UC Davis.
As a part of Global Affairs, Services for International Students and Scholars aims to inspire global curiosity, understanding, and engagement.
Category
Tags