By Mary Martin-Mabry, digital communications specialist, Global Affairs
Ho, Ghana is about 7,500 miles from Davis, California, but the journey for Jerry John Nutor, much like for any international student, felt much farther.
When Nutor began attending classes at community college, he was interested in nursing, but wasn't sure which direction to pursue. By the time he transitioned to the University of Cape Coast in Cape Coast, Ghana, he had decided to major in nursing with a focus on research and academia.  
"When I started community college, I realized Ghana was a little behind in nursing education and research. I wanted to teach and mentor and do research, even though I didn't know much about research at the time," Nutor said.
Nutor completed his bachelor's in nursing and began working in a clinical setting, where his desire to focus on research and academia was reaffirmed. He knew he must continue his education. One of Nutor's professors at the University of Cape Coast, retired American professor, Janet Gross, suggested he look into graduate nursing programs in United Kingdom, Canada and United States. He did some research online and eventually narrowed his choice down to UC Davis.
Nursing Science and Healthcare Leadership at UC Davis had established a mentoring program to help incoming students adjust to the academic expectations and life in Davis. Nutor was assigned a second-year graduate student mentor who picked him up from the airport. She was helpful even before he came—he had asked her a lot of questions in the months leading up to his arrival. Nutor thought the mentoring program was a great initiative, finding a way to link current and incoming students and help newcomers feel connected and welcomed.
While his mentor was able to help him navigate the graduate nursing program and settle into life at UC Davis, Nutor struggled to find housing. As he was searching and making connections online with other graduate students at UC Davis, he found another Ghanaian who was completing the last year of his Ph.D. in nutrition, Dr. Moses Klevor.
Klevor gave Nutor a place to stay for six weeks while he found his own place to live and gave Jerry advice about the city and the school from a perspective he could easily relate to. This experience inspired Nutor to pay it forward—in his last year at UC Davis, he left his phone number with Services for International Students and Scholars within Global Affairs for any other students from Ghana who might feel isolated. As Nutor sees it, the friends he made while at Davis broadened his thinking, but in those first few weeks, having someone from the same culture created room for conversation.
"You can ask more questions without feeling or looking stupid," he explained.
After completing his master's at UC Davis, Nutor transitioned immediately into a Ph.D. program. His process was much the same as it had been years earlier when deciding to come to Davis, only this time he wanted to experience life on the East Coast of the U.S. He did his research, communicated with his mentors, applied to a program at Drexel University in Philadelphia, PA and was accepted. 
Despite being an international graduate student himself, his research at UC Davis and at Drexel has taken him abroad several times — to Ireland, Australia, the United Kingdom, Zambia, South Africa, and his home country, Ghana. He was awarded a grant through the Blum Center for Developing Economies, within Global Affairs, Graduate Awards Program – Poverty Alleviation through Sustainable Solutions. He and other colleagues from the Betty Irene School of Nursing researched child and maternal mortality in the Volta region, in the process impacting regional health policy.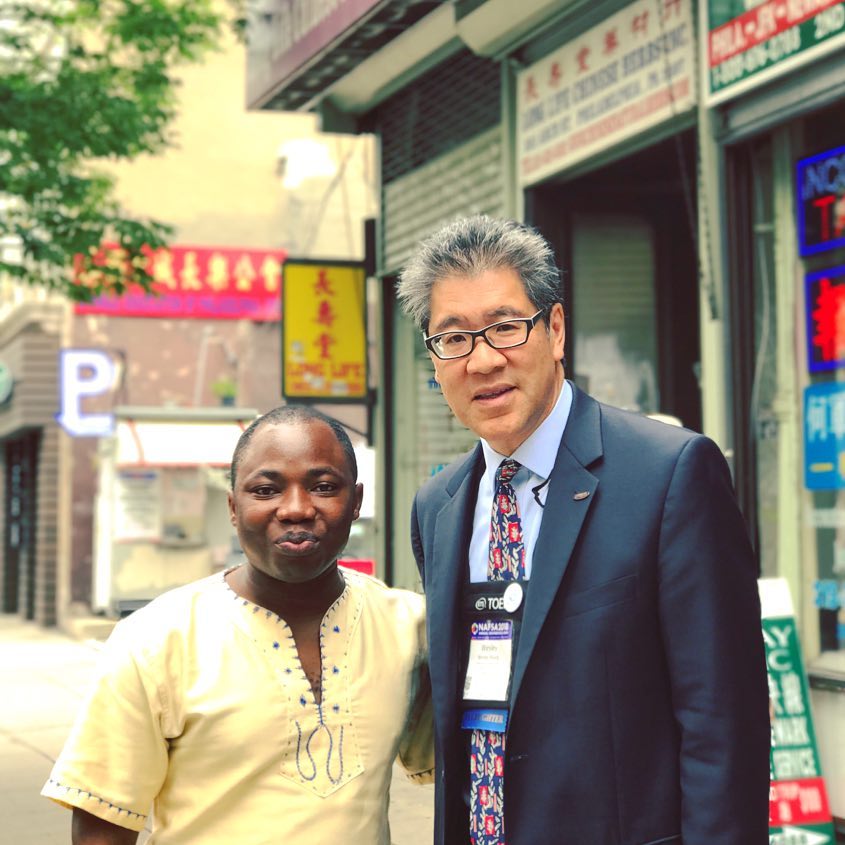 One visit home in more than three years does little to curb homesickness, though. "It's hard to return home when you're working on your Ph.D., but my family is very proud," he said.
Nutor does plan to return to West Africa eventually. He now has the U.S. education and training he desired under his belt, but wants more experience so he can become an independent researcher or faculty member. As he looks toward the next leg of his journey—as a postdoctoral scholar at Princeton University in New Jersey—he still remembers how exciting and nerve-wracking it was taking that first step to come to the U.S.
So what advice would he give to UC Davis international students?  
"Think globally—look at the internet and see what people are doing aboard. It's about your mentality, build connections before you come and be open minded. A lot of things are happening around the world. Try to get to know more about other countries and student experiences (especially international students). Be prepared for adventure."
---
This is part of a series featuring Global Aggies – members of the UC Davis community who are living the Global Affairs mission: to inspire global curiosity, understanding, and engagement. Learn more about Global Aggies at UC Davis. 
---
About Services for International Students and Scholars
From ensuring some of the world's brightest international students and scholars have the opportunity to study, research, or teach at UC Davis to providing advising and community programming, Services for International Students and Scholars helps California and UC Davis become a home away from home for our more than 10,000 international students and scholars coming from over 140 countries.
As a part of Global Affairs, Services for International Students and Scholars aims to inspire global curiosity, understanding, and engagement.
Category
Tags