How to Find Your Global Community at UC Davis
By Allie Dodson, student writer, Global Affairs
This fall, UC Davis will welcome new and returning students from countries all over the world. International students are an important part of our Aggie community. 
Though this is an exciting time, it's natural to be nervous about finding community in a new academic and social environment. UC Davis offers a number of opportunities to develop connections and relationships whether students are located locally or taking remote classes from their homes outside the U.S. Below are just a few ways you can get started finding and building your global campus community no matter where you are in the world.
Orientation
Aggie Orientation for undergraduates and Graduate Student Orientation for graduate students teach you what you need to know about being members of the Aggie community. Besides teaching you about logistics such as graduation requirements, orientation also serves as a valuable first space to make connections with faculty and other students. In addition to these orientation events, international students also have  International Student Orientation, which helps familiarize you with legal requirements and helps you get to know life in Davis. This year, all orientation activities will be remote, so you can access activities from anywhere. It's a great start on the path to establishing lifelong friendships and connections.
Academics and First-Year Aggie Connections
Your classes are a wonderful place to meet students both inside and outside of your major, make friends, and form study groups. First-Year Aggie Connections, in particular, offer groups of up to 25 first-year students the chance to meet regularly throughout a quarter to discuss a common theme. This fall, Global Affairs will sponsor three not-for-credit Connections: Global Aggies Facing Global Challenges, Spoken Word Storytelling, and A Sense of Place. First-Year Aggie Connections allow you to explore your interests and get accustomed to college life alongside a small group of like-minded students.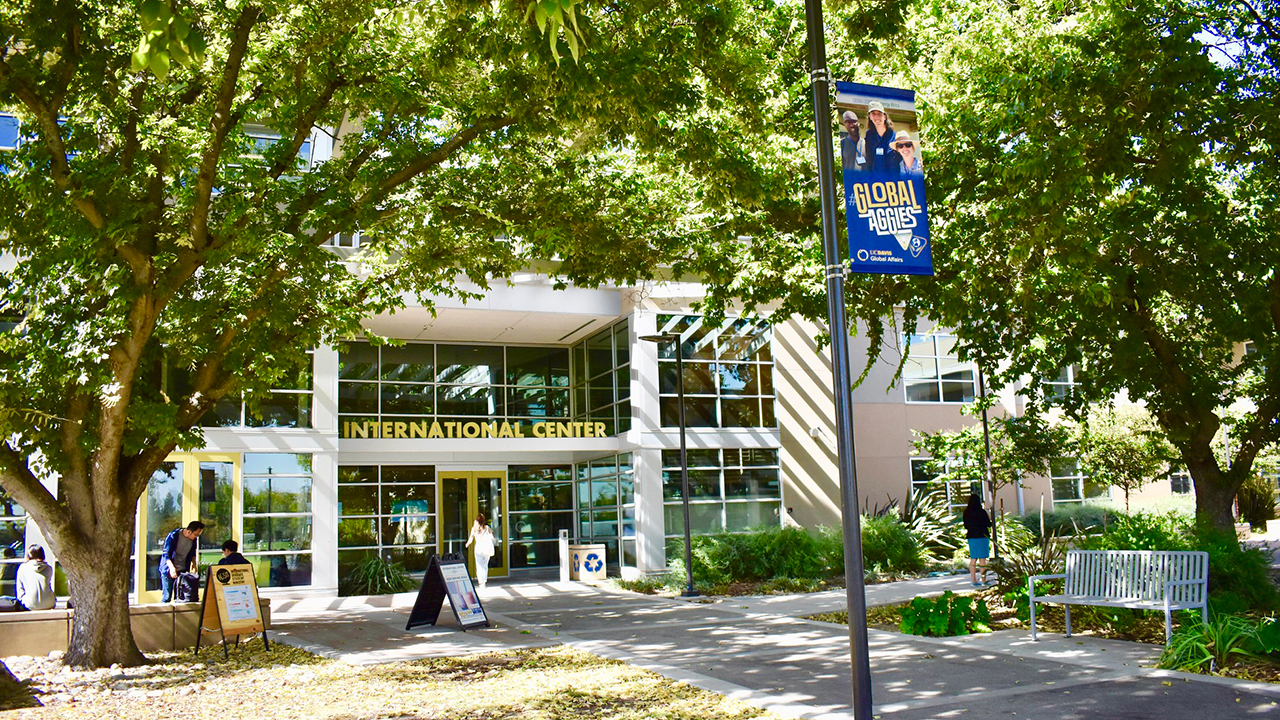 Student Groups
There are many student life centers on campus that are committed to promoting diversity, including the Cross Cultural Center, Women's Resources and Research Center, and more. These groups are located in the Student Community Center and regularly organize advocacy events and study spaces for like-minded individuals to come together.
Student clubs are also a place to explore your shared interests. Center for Student Involvement lets you search more than 800 clubs on campus, including volunteer and professional organizations, sports programs, Greek life, cultural societies, and more. You can filter these groups by category to search for your specific interests. Using your Kerberos student login, set up an account, and sign into AggieLife, the online portal for student organizations. With Aggie Life, you can learn more about events, keep track of your involvement, and access the Involvement Calculator to help narrow your search even further. If you have an idea for a club that doesn't exist yet, you can even create your own!
Virtual Programming
When we are all back on campus together, the International Center, located at 463 California Avenue, serves as the campus hub for domestic and international connection. Here, students gather to study, talk, and participate in community activities. Although we can't currently meet in person, Global Affairs has developed a number of virtual programs designed to continue to connect incoming students and continuing scholars.
Virtual evening community spaces will be hosted before the school year starts, allowing incoming students to participate in fun virtual activities with Global Affairs mentors and other undergraduates. Connecting You with Global Affairs, a three-part series will also give you the chance to learn from UC Davis students on subjects such as global learning and the UN Sustainable Development Goals.  
Find tentative dates and registration information for all these events here.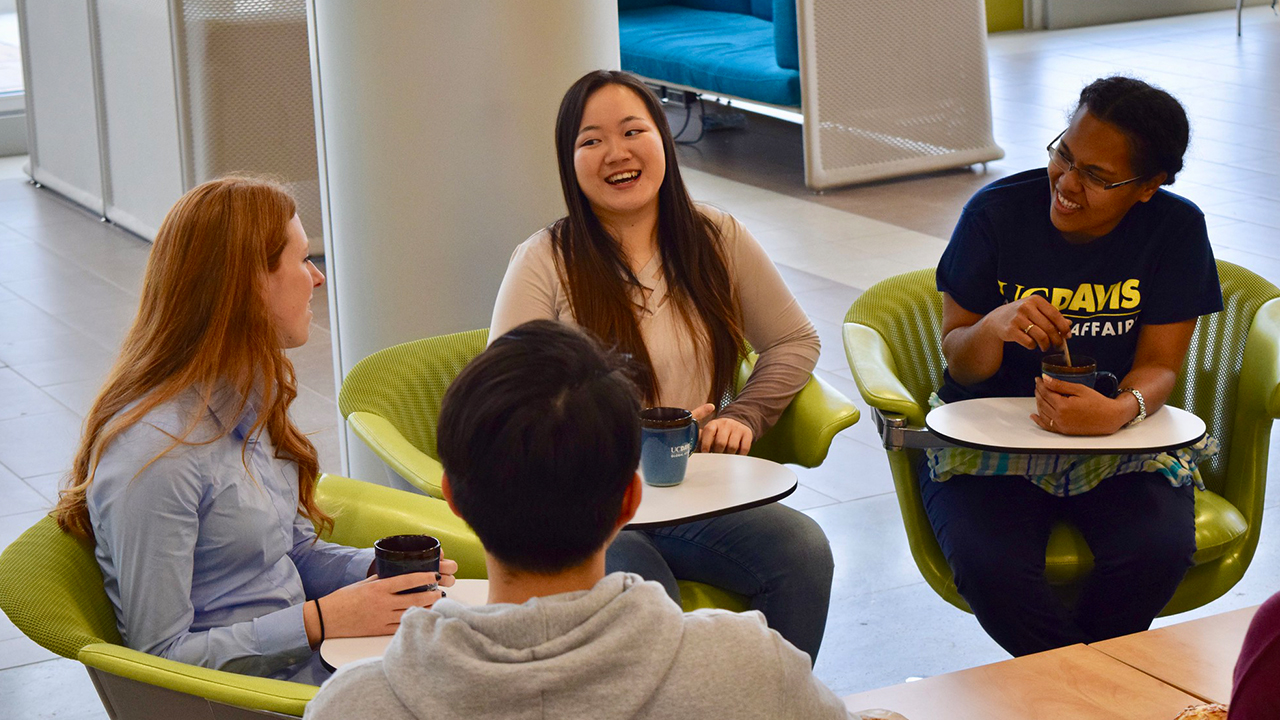 Mentorship
The Global Ambassador Mentorship Program, run by Global Affairs, pairs first-year and transfer international students with current students who have similar interests. Having a mentor who understands your situation and can guide you towards the correct resources is invaluable. Besides one-on-one interactions between pairs of mentors and mentees, there will also be fun virtual activities such as game night to participate in as a cohort. New first-year and transfer students are encouraged to sign up to get a mentor. 
How to Stay Connected
As you dive into UC Davis, you will discover even more opportunities to find a global home on campus. Connect with UC Davis Global Affairs on Instagram, Facebook, Twitter, LinkedIn, and YouTube. International students and scholars can also request to join the SISS Facebook group. For news, opportunities, and event information, sign up to receive the SISS and Global Affairs newsletters. As you prepare to arrive on campus, review the International Student and Scholar Handbook with even more information about your new home in Davis, setting up and settling into your new routine, and life on campus. Our Finding Your Global Community webpage is also a wonderful resource for you to learn about more ways to connect to campus.
We look forward to meeting you and welcoming you into our Aggie community in the near future!
---
About Services for International Students and Scholars
Services for International Students and Scholars (SISS), within Global Affairs, is helping to build a campus community that includes students and scholars from over 140 countries and six continents. SISS serves more than 10,000 international students, faculty, and researchers and their accompanying family members who come to UC Davis each year.  We welcome the world to UC Davis.
As a part of Global Affairs, Services for International Students and Scholars aims to inspire global curiosity, understanding, and engagement.
Primary Category
Tags